Abstract Flower Art
Flower Power
Fiery Tulip, Florene M. Welebny
Image from Easyart
Abstract flower art is a celebration of nature without constraint and a great way to bring the colors of the garden into your home.
Traditional floral art strives to recreate an exact image of the flower and the result, although beautiful, is ordered and controlled.
The artist painting abstract flower art is free to paint their response to the flower, resulting in a more liberating experience for both the artist and the viewer.


When it comes to abstract flower art, few artists do it better than Georgia O'Keeffe who summed the process up when she said:

'I know I cannot paint a flower. I can convey to you my experience of the flower or the experience that makes the flower of significance to me at that particular time.'

Light Iris 1924, Georgia O'Keeffee
Image from art.com
O'Keeffe's abstract flower art is big and bold and colourful. She takes us into the flower because she wants us to really look at how amazing it is, as she explained:

'... I'll paint what I see – what the flower is to me but I'll paint it big and they will be surprised into taking time to look at it – I will make even busy New Yorkers take time to see what I see of flowers.'

And she succeeded. She captures the essence of the flower through large expanses of vibrant color, through swirling folds and shapes and always with complete attention to detail.

Abstraction white rose,
Georgia O' Keeffe
Image from art.com
Red Amaryllis, 1937,
Georgia O' Keeffe
Image from art.com
Purple Petunias,
Georgia O' Keeffe
Image from art.com
With Georgia O'Keeffe abstract flower art on your wall, you're bringing a bit of nature's luxury into your home. You'll want to kick your shoes off and just sit back and enjoy it.
Ways of Seeing
The abstract art flower tradition might have started with O'Keeffe but contemporary artists have continued to push the boundaries and find new and interesting ways to interpret flowers.
Flowers (Pink, Lilac, Yellow on Black), Andy Warhol
Image from Easyart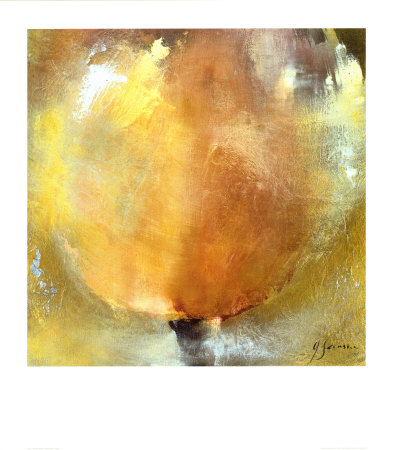 Exuberance I, Greetje Feenstra
Image from art.com
Some interpretations are bold and striking, using hard edged, geometric structures while others are pale and delicate and almost floating off the canvas.

Whatever the style, abstract flower art is a beautiful reminder of the splendour of the natural world.
Bringing abstract art flowers into your living space is a great way to make an elegant and stylish statement.
Whether you go for a vibrant interpretation full of colour and energy or a pale and delicate one in more subtle tones, you will be bringing beauty into your home.

We've been through the gardens of our affiliate partners art.com and easyart.com and picked a bunch of some fine abstract flower art reflecting a variety of interpretations. We hope you enjoy it.