Abstract Landscape Art
Abstract landscape art is a great choice if you are looking for some living room wall art with a difference. As Georgia O'Keeffe put it:
'the wideness and wonder of the world' can be conveyed brilliantly through an abstract interpretation of scene.

Agrigente, Nicolas de Stael
Image from Easyart
New eyes
Ocean Park 116, Richard Diebenkorn
Image from Easyart
Abstract landscape art takes the vastness and complexity of a scene in nature and turns it into blocks of color, shapes, patterns and brushstrokes and gives it back to us in ways which allow us to look at it with new eyes.

Like abstract flower art, landscape abstract art encourages us to look with more attention at things we can so often take for granted.
The artist's unique interpretation of a series of green fields, an expanse of ocean or a clump of trees adds a whole other dimension to the familiar.

Artists such as Nicholas de Stael and Richard Diebenkorn transform landscapes by taking this simplified approach and using geometric shapes in contrasting colors to re-create the landscapes that inspired them.

Color has taken hold of me...
Ebene Landschaft, Paul Klee (1924)
Image from Easyart
For Paul Klee, his abstract landscape art was all about color. Overwhelmed by the light and color in the landscape of Tunisia when he went there in 1914, he experienced a great shift within himself as an artist. Such was its impact, he said:
Color has taken hold of me; no longer do I have to chase after it. I know that it has hold of me forever. That is the significance of this blessed moment. Color and I are one. I am a painter.
Nostalgia and Emotion
At the other end of the spectrum, Franz Kline's large-scale black and white paintings are a stark evocation of an industrial landscape he was familiar with as a boy – mining structures, bridges, railroads, engines. A landscape fixed in his memory.
Arshile Gorky's emotional responses to the landscape of Connecticut and Virginia, on the other hand, resulted in dreamy paintings that float on the page. This abstract landscape art resonates with memory and longing for the home he was forced to abandon as a child.
Red Painting, Franz Kline
Image from Easyart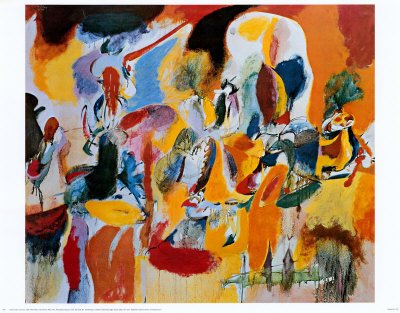 Water of the Flowery Mill, Arshile Gorky
Image from art.com
Georgia O'Keeffe saw lines, curves and dense color in the world below her as she surveyed landscapes from the air during her extensive travel abroad.
White bones in the desert, the red hills of New Mexico, waterfalls, lakes, rivers, expanses of white cloud were all perfect subjects for her abstract landscape art and evoked a world that was, as she said 'big beyond my understanding.'
Pelvis in the Distance, Georgia O'Keeffe
Image from Easyart
Landscapes continue to fascinate artists and, along with works by the artists above, we've selected some really great abstract landscape art by contemporary artists who are equally in tune with their environment.
If you are inspired by the landscape to produce your own work, you might be interested to check out these landscape painting workshops in beautiful Scotland by contemporary landscape artist, Peter Tarrant.