Arshile Gorky (1904-1948)
Arshile Gorky was haunted by painful memories of the trauma and deprivation of his early life as a refugee and the resulting loss of his mother. However, for a few years, he found some peace and inspiration in rural Virginia where he lived with his wife and young family.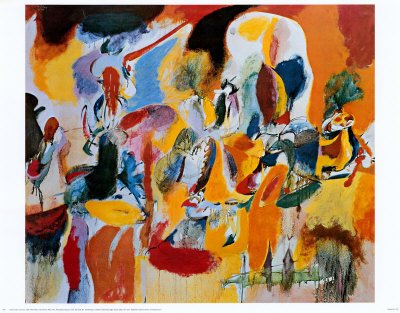 Early Years
Arshile Gorky was born Vosdanig Adoian in 1902 (or possibly 1904, the exact year is unclear) in the village of Khorkom, near Lake Van, in an Armenian province on the eastern border of Ottoman Turkey. Gorky's family, along with thousands of others, were forced out of their home by Turkish troops in 1915 and the subsequent deprivation they suffered as refugees in Russia led to the death of his mother from starvation in 1918. Gorky and his sister were among a group of refugees sent to the United States where they were reunited with their estranged father who, in 1908, had deserted the family to avoid conscription into the Turkish army.
New York
In America, Gorky did a variety of jobs and began the process of self-education as an artist. He attended the New School of Design in Boston and, at the age of twenty-one, went to New York and studied at the Grant Central Art School where he later became an instructor. It was around this time that he changed his name to Arshile Gorky. During the 1920s and 1930s, his art was heavily influenced by Cezanne and then Picasso. In the 1930s, he was part of the New York School of artists and struck up a close brotherly friendship with Willem de Kooning, with whom he shared a studio for a time. &nbsp.
In the 1940s Gorky moved more towards abstraction in his painting. His friendships with Andre Breton, the leader of a Surrealist group exiled in New York and the Chilean surrealist painter, Matta (Roberto Sebastian Matta Echaurren, born 1911) were deeply significant for him and liberated him from the need to imitate other artists and allowed him to feel free to develop his own style. His paintings during this period were inspired by the American landscapes around him in Connecticut and Virginia and memories of his homeland.
Later Years
Despite the artistic success of this period, Gorky's life was blighted by tragedy. In 1946, he suffered the loss of paintings, notebooks and drawings as a result of a fire in his studio. A serious illness in that same year and a bad car crash in 1948 led to a depression that resulted in his suicide in July 1948. His suicide note read 'Goodbye my Loveds'.