Blue Abstract Art
Cool and Fresh
Blue abstract art will help to create a cool, fresh and relaxed environment.
It's a reminder of blue sky, of rivers, lakes and oceans – the aspects of the natural world that give us a sense of freedom and space and connect us to the spiritual in ourselves.
As Wassily Kandinsky put it, blue is 'the typical heavenly color'.
Blue Notes
When Kandinsky painted his blue abstract paintings he was thinking of music. He said
'a light blue is like a flute, a darker blue a cello; a still darker a thunderous double bass; and the darkest blue of all – an organ'.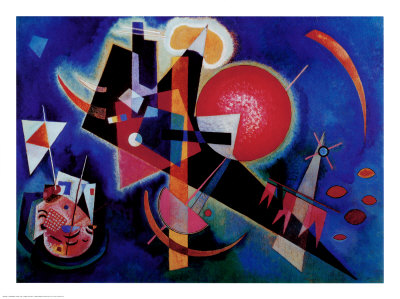 That's a great way to look at it when you're working out which blue abstract art to choose for a particular room.
Blue is a restful color and induces feelings of peace and calm wherever it's used but do you want to relax to the light, airy notes of the flute, the dark, rich notes of the cello or the deeper notes of the double bass or organ?
Something for Everyone
Blue and white make a beautifully fresh and clean combination – it's impossible not to feel calmer and more focussed on our own well-being when we have these colors around.
Pale blues, in particular, invoke feelings of being on the coast, walking in the sand dunes, looking across to the ocean.
Vivid darker blues contrasted with white take us to a sun-drenched Greek island.

If you've decorated your home in neutral colors, a well-chosen piece of blue abstract art will make a great visual statement and ensure that your space is both welcoming and relaxing.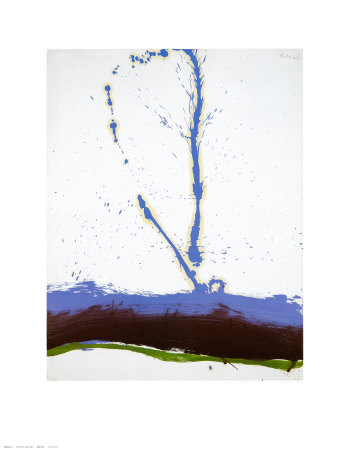 Blue, no matter what shade it comes in, appeals to everyone. It induces feelings of calm and creates a sense of security.
It's a great to have some blue abstract art in a room where you want to feel inspired and tuned into your own inner wisdom.
Blue is a great all-rounder and blue abstract art in all its varieties is a great choice for any room.
We hope you find something inspirational for your home in this selection we've put together