Famous Abstract Art
What makes a painting famous?
Many of the twentieth century's most iconic and famous abstract art came from abstract artists who were looking for new ways to represent the world around them and their responses to it.
Here is a selection of our favourite famous abstract paintings that helped to set the ball rolling.
Famous Abstract Paintings
Wassily Kandinsky was a prolific painter and has left an enormous body of abstract art. He has been often credited with creating the world's first purely abstract painting (an untitled watercolor, now in the centre George Pomidou, Paris).
Composition VIII, 1932
Image from Art.com
By the time he painted Composition VIII in 1923, any representational elements have been completely removed, leaving painting which communicates through a purely abstract language of symbols, shapes and color.
Les Demoiselles d'Avignon, Pablo Picasso
Image from Art.com
Pablo Picasso, who pioneered cubism, painted this work in 1907. Despite not being fully abstract, it contains many elements of distortion and abstraction and was quite unlike anything that had been painted before.
Kasimir Malevich Black Square
Image FromArt.com
Russian artist Kasimir Malevich painted this picture, his first "suprematist" composition in 1913, a black square on a white background. Malevich was one of the very first pioneers of pure abstraction in art, aiming to distil his pictures into a communication of the most basic human feelings. Tableau I, Mondrian
Image from Art.com
Piet Mondrian was influenced by Cubism and began experimenting with increasingly abstract paintings in the early twentieth century. He started painting pictures of grids of colours and black or grey lines and by 1920 had evolved a style which remains popular today.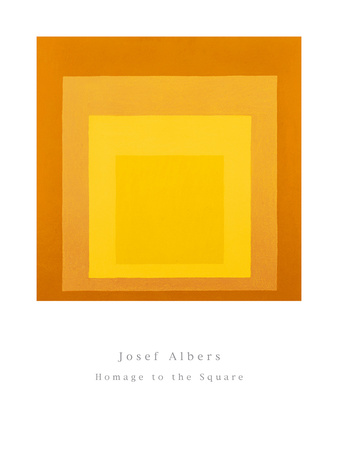 This is one of Josef Albers series, Homage to the Square. He started the series started in 1950 and it anticipated the interests of later twentieth century artists with images that still appear strikingly modern today. Albers was a teacher in the Bauhaus, a school of design hugely influential on modernist thinking in the first half of the twentieth century.
Famous Abstract Art in America - Zips and Drips
Jackson Pollock, one of the New York school of Abstract Expressionists, pioneered the use of new techniques in painting from the middle of the twentieth century. He produced some of the most famous abstract art from the twentieth century. This picture was painted by laying the canvas on the floor and dripping or flinging paint from the can using sticks or large brushes.
This method, known as "action painting" resulted in a unique expression of the physical energy of the artist transferred directly to the canvas.
The floating fields of pure color by the New York artist Mark Rothko are representative of his mature style arrived at in the late 1940s. His body of work is some of the most instantly recognisable and famous abstract art. Four Darks in Red, painted in 1958 dates from a period when he started to use more subdued colors in his works.
Willem De Kooning's love of New York was one of his biggest sources of inspiration.
His powerful response to the urban landscape combined with painful, angry (though possibly sub-conscious) memories of a mother's love denied are, I think, all there in his raw, energetic and challenging paintings.
Clyfford Still and Barnett Newman put their focus on a perception of something beyond our world, as Mondrian and Malevich had done before them.
I think what these paintings do is communicate something deeper to us and connect us to parts of ourselves in ways that feel meaningful - even though we might not even be aware of it on a superficial level.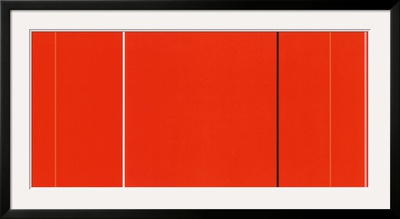 Franz Kline's "The Chief" was painted in 1950 and is named after a locomotive engine that used to pass by his childhood home. Kline's way of painting vigorous gestures in black and in white, resulted from his experiments using a light project to enlarge and project his drawings onto a blank wall.
Robert Motherwell's elegy to the Spanish republic series was painted over a period of thirty years. Motherwell was one of abstract expressionism's most prolific artists, producing paintings, prints and art writings over a long career.
After Abstract Expressionism
Zeta, 1962, Morris Louis
Image by Chris and/or Kevin, on Flickr
Following the abstract expressionists, the next generation of abstract artists in America moved away from depicting primary emotions and gesture and became interested in producing images involving areas of pure flat color. The work of the "Color Field" painters including Morris Louis, Frank Stella, Kenneth Noland and others is some of the most famous abstract art from the period..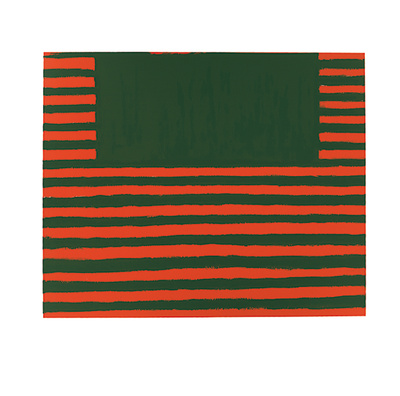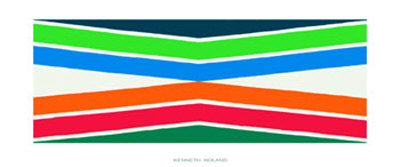 Contemporary Famous Abstract Art
It's hard to predict the art that history will remember, but three well known contemporary artists producing abstract work include Howard Hodgkin, Sean Scully and Damien Hirst
What makes Famous Abstract Art?
So, what does make a painting famous? - Is it the originality of an idea, the universality of the subject matter, the talent and skill of the artist or is it connected to a much more elusive quality – an artist's voice speaking to the viewer on an intensely emotional and personal level and communicating in ways that reflect the human experience and leave a lasting impression?