Frank Stella
You know where you are with a Frank Stella painting. The man who most famously said "what you see is what you see" does not deal with mystery in art. The image exists, resolutely and confidently abstract, formal and somehow definite with its hard edges and flat, sometimes exuberant color.
West Broadway, 1958
Image from art.com
Stella has been a phenomenally successful artist from very early in his career. He was only 23 years old when he caught the attention of the art world with his series of 'Black Paintings'. In these works Stella used black house paint to create a series of black and white pinstripe paintings in a variety of geometric shapes.
Louisiana Lottery Co.
Image by cliff1066T on Flickr
The works were confident and had impact and ensured his reputation as a painter to watch, so much so that the Museum of Modern Art in New York included four of his works in one of its exhibitions and he was taken on by the prestigious Leo Castelli gallery.
Stella went on to produce further works in series, concentrating on geometric motifs, such as stripes, pinstripes and straight line contours, often on shaped and notched canvas or aluminium.
Chodorow II
Image by cliff1066T, on Flickr"
His landmark series irregular polygons, created in the 1960s changed the way we think about paintings as having to be rectangular objects.
Minimalism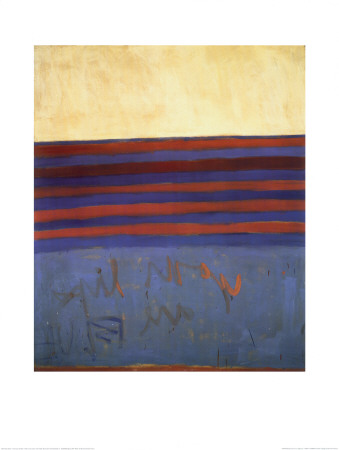 Your Lips are Blue
Image from art.com
Frank Stella has often been called the father of minimalism. At a time when the abstract expressionist artists such as Rothko, Pollock, Barnett Newman and others were concerned with expressing pure emotion through art, Stella concerned himself directly with the visual experience of looking at pictures, stripping away unnecessary emotional interpretation.
He said in his series of lectures, published in 1986 as Working Space

But after all, the aim of art is to create space - space that is not compromised by decoration or illustration, space within which the subjects of painting can live.

His work paved the way for other artists such as Carl Andre, Donald Judd who made art so stripped of unnecessary elements that it became known as "minimal" art.
Nightgown
Image by Allie_Caulfield, on Flickr
Frank Stella's later work became more exuberant in shape, so much so that his "paintings" began to leave the wall, first as reliefs and also as sculptures.