Georgia O Keeffe (1887-1986)
Early Years
Georgia O Keeffe was born into a farming family near Sun Prairie, Wisconsin in 1887, the second of seven children. She knew from a very young age that she wanted to become an artist and took lessons throughout her childhood. She attended the Art Institute of Chicago in 1905-1906 but illness forced her to abandon her studies. She resumed them again in 1907-08 when she went to the Art Students' League in New York where she was successful in winning the Chase Still Life Prize and a place at the League Outdoor School at Lake George.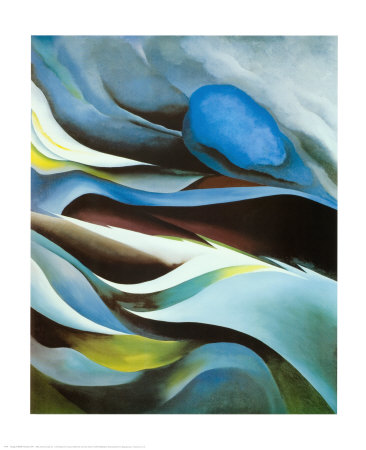 From 1908, Georgia O Keeffe chose to work as a commercial artist in Chicago and it wasn't until 1912 when she took an art class at the University of Virginia that she re-discovered her love of painting. After a time working as a public schools art supervisor, she returned to New York to take up a place at the Teachers' College, Columbia University and later worked as an art teacher in Columbia University in South Carolina.
A Different Approach
Around 1915, she began to re-think her approach to art and in the process decided to discard much of what she had been taught and instead go with her own instinctive approach to painting.
She began by doing only black and white drawings and relished the freedom of working alone and without expectation from anyone else. She sent the drawings to a friend in New York who (without Georgia O'Keeffe's consent) brought them to gallery 291, owned by the photographer Alfred Stieglitz. Impressed, Stieglitz hung them in his gallery as part of an exhibition. A disgruntled Georgia O'Keeffe visiting New York at the time asked him to take them down but Stieglitz refused. This marked the beginning of what was to be a long relationship between them.
A second exhibition followed in 1917 and O'Keeffe accepted Stieglitz's offer to fund her for a year while she painted. They eventually married in 1923, the same year he mounted a major Georgia O Keeffe exhibition in New York.
Abstract Flower Art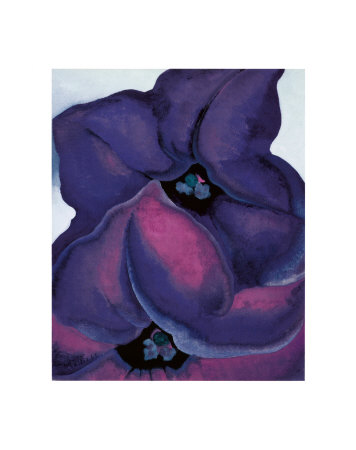 It was during the 1920s that Georgia O Keeffe began to explore the potential for abstraction using a single flower. She filled her canvases with expanses of brilliant color, revealing the shapes and forms of the inner reproductive parts of the flower. Her idea was to surprise the viewer and get their attention by making her flowers so big that they couldn't be ignored.
O Keeffe was successful in her quest and her work was popular from the outset. She has given us the most beautiful examples of abstract flower art that are a constant reminder to us of the need to really look at nature.

New Mexico
Around the late 1920s, Georgia O Keeffe fell in love with the landscape of New Mexico, spending summers there to paint. After Stieglitz's death in 1945 she moved there permanently.
She loved the landscape of New Mexico and many of her later paintings are inspired by the desert, its landscape and buildings and the objects such as bleached bones that she found there.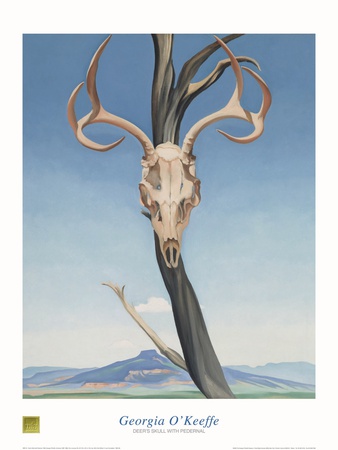 Her response to these themes is abstract in nature and her work is a bold and vivid response to a landscape that she clearly loved and that continued to fascinate her during her long life.
Georgia O Keeffe travelled extensively during the 1950s and 1960s, making a complete round-the-world trip in 1959. Air travel gave her a new perspective on the landscape and she used these images as inspiration for paintings of winding rivers meandering through the desert, as well as painting of cloud formations.
During the 1970s, she became friends with a young potter called Juan Hamilton who, despite being almost sixty years her junior, was to be her constant companion until her death.
Georgia O Keeffe died in 1986.