Hans Hofmann (1880-1966)
Artist and teacher, Hans Hofmann, occupied a unique place in the world of 20thcentury art as someone whose career spanned art movements from Cubism and Fauvism, through Surrealism to Abstract Expressionism. Hofmann knew artists such as Matisse, Picasso, Braque and Delaunay as well as Pollock, Krasner and Frankenthaler.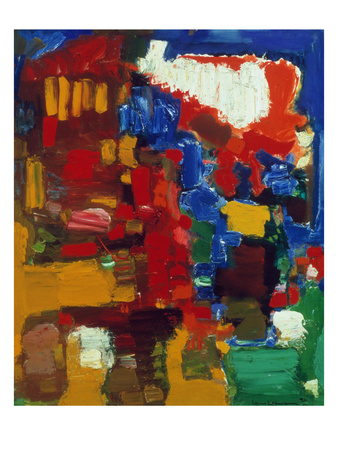 He played a central role in the development of Abstract Expressionism in New York introducing students at his art school to the principles of Cubism and Fauvism and teaching his own 'push-pull' theory of movement in painting. Despite living through the upheaval of two World Wars Hofmann's own work is always joyful. Inspired by nature, his paintings are colorful, vibrant and energetic celebrations of life.
Early Years
Hans Hofmann was born in Weissenberg, Bavaria, Germany in 1880. At the age of six, the family moved to Munich where the young Hofmann was educated. He was an excellent student of science and mathematics but in 1898 he chose to study art, moving to Paris in 1904 to further develop his skills.
In Paris, he was exposed to the work of the leading artists of the time, including Picasso, Braque, Matisse, Robert and Sonia Delaunay. He met and got to know many of them. He was particularly influenced by the Fauvist and Cubist movements. At the outbreak of the First World War, he returned to Munich where he ran a successful and highly respected art school.
Teaching in New York
Hofmann moved to the United States in 1930 and continued his teaching career, setting up an art school in New York. He was a central figure in the evolution of the abstract expressionist movement, promoting the principles of Cubism and Fauvism among his students who included Lee Krasner, Helen Frankenthaler and Frank Stella.
Hofmann promoted the use of color and texture to create form and depth. He disagreed with traditional approaches to perspective which, as he saw it, drew the eye to only one particular part of a painting. Instead he developed his own 'push-pull' theory of movement where the tension between form and color draws the eye to different parts of the painting and creates an impression of shapes moving in and out in the space.
Students found him a gifted and inspiring teacher who allowed each of them to develop their own style, be it abstract or representational. Lee Krasner recalled that his students could be as abstract as they wanted in their interpretation of a subject so long as they continued to look at and use that subject as their reference point during the process.
A Full-time Painter Again
Hofmann ran his art school from 1934 to 1958 when he decided to give up teaching to work full-time as a painter. In 1960 he was one of several artists to represent the United States at the Venice Biennale and his work was exhibited widely throughout the United States and Europe during subsequent years. He died in New York in 1966.