Helen Frankenthaler
Early Years
Born in 1928, Helen Frankenthaler grew up in a wealthy home in Manhattan, the youngest of three girls. She had a happy childhood and her parents encouraged her artistic talents from an early age. Her father's death when she was 11 left her traumatised and struggling at school until, at the age of 15, she moved to the liberal New York school, Dalton College. There she found mentors who enabled her to reconnect with her creativity, including Mexican colourist, Rufino Tamayo who encouraged her in the use of bold reds and blues and taught her to explore ambience in painting. When she graduated from Dalton, she knew she wanted to be a painter and went to study art at the prestigious Bennington College in Vermont.
The Influence of Abstract Expressionism
At Bennington, her early influences were Picasso and Kandinsky as well as the works of the Old Masters and the American painter, John Marin. She embraced the spirit of Cubism, using shape, colour and texture to create form and depth in her paintings. After Bennington, she spent some time in classes run by German artist, Hans Hofmann. Although encouraged by Hoffmann's positive response to her work, she always credited Bennington and her teacher there, Paul Feely, with giving her the Cubist foundation on which she built her career.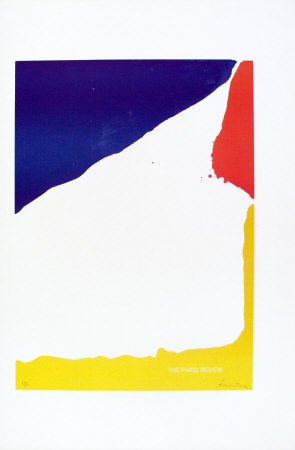 In 1950, while organising a New York exhibition of works by former Bennington students, Frankenthaler was introduced to the influential art critic, Clement Greenberg. The two got on well and began a relationship which was to last for five years. Greenberg was instrumental in introducing her to a number of the leading New York abstract expressionist painters including Arshile Gorky (whose work she loved), Jackson Pollock, Willem de Kooning and Franz Kline.
A young and confident artist, Frankenthaler was unfazed by the weight and influence of these established artists and moved comfortably in their circle, regularly socialising with them in the Cedar Bar. Pollock, along with Clyfford Still, Mark Rothko and Barnett Newman had begun to paint across the canvas, saturating the eye with expanses of colour, allowing it to be a means of expression in its own right. This new style became known as Colour-Field painting.
Development of Colour-Field Painting
Frankenthaler observed these techniques with interest. She was particularly drawn to the painting style of Jackson Pollock and was inspired by the way in which he dripped and poured paint onto the surface of a large canvas spread out on the floor. She reflected on Pollock's techniques in particular and spent time assimilating his approach into her own work.
What emerged was a new painterly language that would shift the emphasis from the post-war, angst-ridden action painting of the abstract expressionists onto a more gentle, optimistic and lyrical style that found inspiration in nature and art history.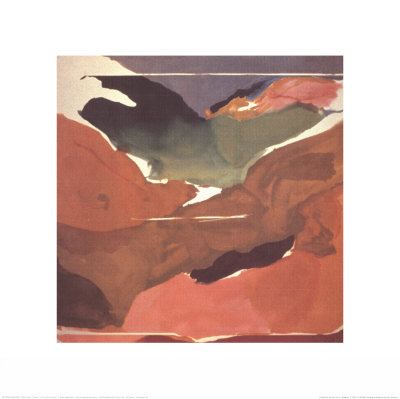 In 1952, the 23 year old Frankenthaler returned from a trip to Nova Scotia and set about painting from memory her response to the colours, contours and energy of the landscape there. Working on a 10ft by 7ft unprimed canvas nailed to the floor, she diluted her oil paints with turpentine and poured them onto its surface. This allowed them to flow and to soak in, so that the colours and the textured weave of the canvas blended to create form and depth in a painting entitled Mountains and Sea.
The Frankenthaler Effect
The technique was revolutionary and for artists such as Morris Louis and Kenneth Noland, it provided a key to the development of their own work. When they visited her studio with Greenberg, they were captivated by what she was doing. Helen Frankenthaler had created a way in which painting could move beyond the dominant force of abstract expressionism and push further into the new landscape of colour field painting. Not only was she creating her own distinctive style, she was providing Louis and Noland with a stepping stone towards major shifts in their own work.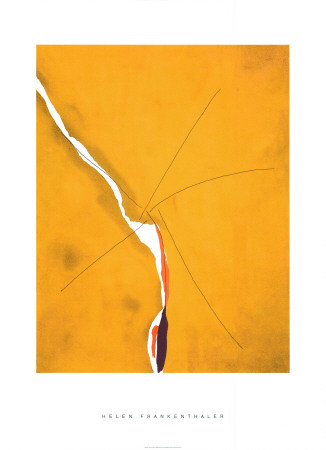 In her painting Frankenthaler took inspiration from landscape, poetry or literature to create form. Inspiration was key to her and once inspired, her confidence in the process allowed her to improvise as she went along. There were no rules and she allowed herself the freedom to try something and fail, if necessary.
She said,
I will sometimes start a picture feeling "What will happen if I work with three blues and another color, and maybe more or less of the other color than the combined blues?"And very often midway through the picture I have to change the basis of the experience. Or I add and add to the canvas. And if it's over-worked and beyond help I throw it away
Of her 1957 painting Jacob's Ladder, she said "The picture developed (bit by bit while I was working on it) into shapes symbolic of an exuberant figure and ladder, therefore Jacob's Ladder."
Her early interest in shape and form on the canvas later gave way to a fascination with colour combinations within those forms. She experimented with the way in which the colours could surprise her and create movement in their own right.
During the 1960s she began to use acrylic paints and created paintings whose central feature was a large single stain, such as in Canyon (1965) or entire coloured canvases such as Cape (Provincetown) (1964) where paint was allowed to drip across sections.
Throughout her career, she continued to experiment and ventured into sculpture as well as prints and book illustration but she always returned to painting and her legacy is firmly rooted in the development of colour field painting.
Her work has an enduring appeal for its atmospheric colour and softness. It's effect is best summed up by the London Observer critic, Nigel Gosling in his review of a 1964 exhibition of Frankenthaler's work. He wrote:
If any artist can give us aid and comfort, Helen Frankenthaler can with her great splashes of soft colour on huge square canvases. They are big but not bold, abstract but not empty or clinical, free but orderly, lively but intensely relaxed and peaceful...They are vaguely feminine in the way water is feminine—dissolving and instinctive, and on an enveloping scale.
In 1958, Frankenthaler married fellow artist and abstract expressionist, Robert Motherwell. They divorced in 1971.
Helen Frankenthaler died in Connecticut in December 2011.
Follow Abstract Art Framed's board Helen Frankenthaler on Pinterest.