Discover and indulge your passion for abstract art
If you're not already a fan, you might be wondering if abstract art is for you. It's true that it can take a little bit of getting to know. It isn't always love at first sight but if you're curious and willing to give it a little time, you'll be glad you did.
You'll find a different way of looking at the world and our place in it. One that challenges established ways of thinking, stimulates new ideas and expands our vision of what's possible. This site is all about spreading the word so here you'll find:


Fascinating, powerful, intriguing, mysterious, challenging, emotional, cool, colourful, ingenious, spiritual, innovative, controversial .
Just some of the words that spring to mind around this art form. It's also about energy and freedom. With abstract art, you get to decide what meaning it has for you and you can choose to go anywhere you want with it. That's empowering. You are the other half of the equation. The painter paints from their vantage point and you interpret from yours but both experiences come from the heart.
You can't fake it
Sometimes modern art, especially if it's abstract, is dismissed as the kind of art that 'a four year old could do'. But part of the joy of getting to know the art form and abstract artists, past and present, is discovering the real passion that comes through their work and recognising the integrity in their creative process. That's something that an artist just doesn't fake and you can't fake your response either. A genuine emotional response is the all-important key to true art appreciation and that's particularly true for abstract art.
Find the art that works for you.
Finding what you love is key. We want to help you find abstract art that inspires you and strikes that emotional chord. Art that will enhance your life and lift your spirits.
The more art you look at, the clearer you are about what you like and don't like so browse online, visit museums and galleries, check out local exhibitions.
Get to know the artists
Getting to know the artist is often the key to understanding and appreciating a work of art. It can be a humbling experience to discover just how much of their emotional and spiritual selves artists have invested in their paintings and one that frequently transforms how you see their art.
At other times, an artist's use of colour and the energy of their brushwork are so potent in the finished painting that you feel the bond straight away, without any need to know the artist at all. Discovering more about them as people is a bonus.
See what we mean by taking a look at some of these famous abstract artists and their work and discover which ones work for you and how we've experienced them.
Mix and match
This site is designed to provide a broad introduction to abstract art and to be a useful resource for you to discover and expand your knowledge of the art form. But the joy of putting together an art collection is the opportunity it gives you to express yourself in all sorts of different ways. So, explore all types of art and put art on your walls that reflects who you are and not what you think is on trend.
Mix and match your styles. Use vinyl wall art in your bathroom, put a metal sculpture in your garden, frame and display your kids' art. There are all sorts of unique and interesting ways to build up or add to your collection. Be genuine, make it personal and ditch all the rules.
Who are we?
As passionate enthusiasts of abstract art, we buy art when we can and we look at a lot of art so our taste developed and broadened over the years. . We met in an art class in London twenty years ago and we've been enjoying art together ever since.
This site is all about affordable art. Our expertise lies in finding the art that excites us and exploring new ways create exciting art collections on a limited budget.
We've never had a big budget for buying art ourselves but we've discovered ways to build a collection of art, some abstract, some not, that we just love and that works for us and we've learned a lot along the way.
We're keen to share this information and we hope that this site will be a useful resource for you to discover some new passions and enhance some existing ones.
Affiliate declaration
Just a note on the images we use to illustrate our articles. You will see that we have used images from affiliate partners, art.com or easyart.com. These images allow you to enjoy the works of art in a way that is totally compliant with copyright laws and protects the interests of the original artists.
The images are used on these articles pages by way of information only (although of course if you click on them they will take you through to the main supplier site).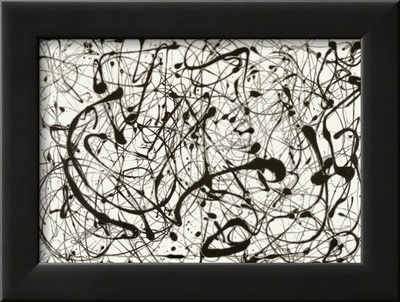 No. 14 (Gray) by Jackson Pollock
Framed print from Art.com