Josef Albers (1888-1976)
Josef Albers was born in Germany in 1888. He was an artist and an educator whose work, both in Europe and in the United States, formed the basis of some of the most influential and far-reaching art education programs of the 20th century.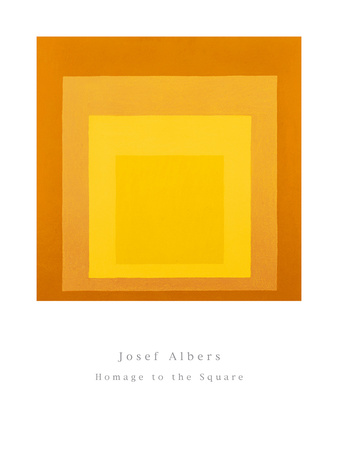 The Bauhaus
Albers qualified as an art teacher in 1915 and while teaching he made his first Expressionist-style prints. In 1920 he joined the Bauhaus school, a teaching institution renowned for its effects on modern design and which placed the emphasis on the connection between artists, architects and craftspeople. At the Bauhaus, Albers developed his own style of glass painting using sandblasting techniques. He also designed furniture and was a gifted photographer. In 1925, he was invited to join the faculty as a teacher.
The United States
In 1933 when the Bauhaus movement was suppressed by the Nazi government, Albers and his wife Anni, emigrated to the United States where he took up a post at Black Mountain College in North Carolina.
'I want to open eyes' he declared and by all accounts his teaching was inspiring and brought the Bauhaus influence to the American art world. Among his students were Robert Rauschenberg and Cy Twombly.
In 1950, Albers left Black Mountain to head the Department of Design at Yale University where he worked on the expansion of the college's graphic design department. He also lectured extensively in the United States, South America and Cuba during this time.
Homage to the Square
Throughout his teaching career, Albers continued to work as a creative artist. Between 1936 and 1941 there were more than twenty-one exhibitions of his glass paintings, oil paintings and prints. In 1950, he began work on his 'Homage to the Square' series. In this collection of paintings, using a square canvas, Albers placed a series of coloured squares one inside the other in order to examine the relationship between colours and the way in which, when placed side by side, one colour effects the other. Albers continued to work on this series throughout the rest of his life and it comprises more than one thousand works which include drawings, prints, tapestries and paintings.
Throughout the 1960s and 1970s, Albers' work was exhibited internationally and he was the recipient of numerous prestigious accolades. In 1971, he was the first living artist to have a retrospective exhibition of his work at the Metropolitan Museum of Modern Art in New York. Josef Albers died in 1976.