Mark Rothko
The most important aspect of painting for Mark Rothko was the creation of space within it. For him, artists were seekers of truth and he sought to communicate his understanding of the world, not through colour, as we might imagine, but through a sense of space within the work.
His paintings are powerfully meditative and draw us in, enveloping us and taking us to a quiet, reflective and emotional place.
Early Years
Mark Rothko was born Marcus Rothkovich in Dvinsk, Russia (now Latvia) on 25 September 1903, the youngest of four children. His father, Jacob, a Jewish pharmacist, emigrated to America in 1910, followed a year later by his two elder sons. The rest of the family followed in 1913 and settled in Portland, Oregon but after only seven months together, Jacob died suddenly. The young Rothko had to work to help pay for his education but did well at school and in 1921 he went to Yale, intent on becoming an engineer. However, he dropped out of college in 1923 and moved to New York where he eventually enrolled at the Art Students' League and attended classes for the next two years. In 1929, he got part-time work as an art teacher and began to exhibit his own work.
Early Exhibitions
In 1933 he had two solo exhibitions in New York and Portland which helped him to get a place on the Federal Art Project where he met other artists of the period: Jackson Pollock, Willem de Kooning, Adolph Gottlieb, Arshile Gorky. He and Gottlieb became close friends and in 1935 they founded 'The Ten', a group of Expressionist painters who exhibited together for the next decade.
Also with Gottlieb, Rothko published the Abstract Expressionist Manifesto, which read as follows:
'To us art is an adventure into an unknown world, which can be explained only by those willing to take risks. This world of the imagination is fancy-free and violently opposed to common sense. It is our function as artists to make the spectator see the world our way - not his way. We favour the simple expression of the complex thought. We are for the large shape because it has the impact of the unequivocal. We wish to reassert the picture plane. We are for flat forms because they destroy illusion and reveal truth… '
Around this time, Mark Rothko officially changed his surname. His work also developed away from urban landscapes and towards a style based on mythological images.
Color-field paintings
In 1945, Rothko opened his first one-man exhibition at Peggy Guggenheim's Art of This Century Gallery to great critical acclaim. He continued to evolve his style and in 1947 began to work on the abstractions of floating colour, the 'colour-field' paintings he is now so completely identified with.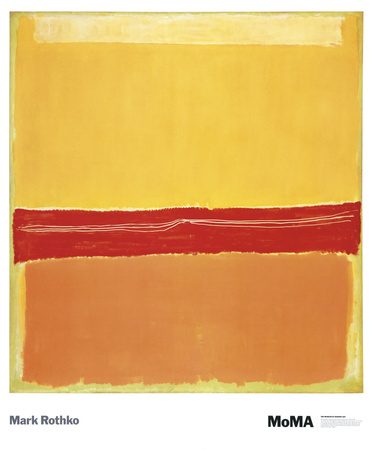 Number 5
Image from art.com
Rothko's reputation grew steadily during the 1950s, bringing much needed improvement to his financial situation. However, despite his success, he grew increasingly neurotic and depressive and drank heavily. He put enormous emotional effort into the painting of his large canvases and said about the process:
'You might as well get one thing straight. I'm not an abstract artist...I'm not interested in the relationship of colour or form or anything else. I'm interested only in expressing basic human emotions – tragedy, ecstasy, doom and so on. And the fact that a lot of people break down and cry when confronted with my pictures shows that I can communicate these basic human emotions...The people who weep before my pictures are having the same religious experience as I had when I painted them.'
In 1958, Rothko began his first commission, monumental paintings for the Four Seasons Restaurant in New York but, once he had completed the paintings, Rothko recognised that this was not the right environment for the work. He declined to give them to the restaurant and returned the commission fee.
The Rothko Chapel and Final Years
The Museum of Modern Art, New York, gave Rothko an important solo exhibition in 1961 and in 1962 he completed murals for Harvard University. In 1964, he was commissioned by Houston philanthropists, Dominique and John de Meil, to paint canvases for what is now known as the Rothko Chapel. Rothko worked closely with the architect and had total control of the space, producing a group of fourteen paintings and creating an intimate sanctuary and meditative environment which is a haven to people of every belief.
During the last year of his life, Rothko produced a series of black on grey paintings. He took his own life in February 1970.