Willem de Kooning
Although one of the most celebrated Abstract Expressionist painters, Willem de Kooning also produced many works depicting the human figure and women, in particular. He worked spontaneously, without using preparatory studies, and as a result his work has an exhilarating impact on the viewer.
Early Years
Willem de Kooning was born in Rotterdam in the Netherlands in 1904. From the age of 12, he served an apprenticeship with a firm of commercial artists and studied in the evenings at the Rotterdam Academy of Fine Arts and Techniques. In the early 1920s he encountered and was influenced by the work of Piet Mondrian and the De Stijl group. In 1926, feeling restless and constrained by the limits of his Dutch environment, he moved illegally to the United States and worked as a commercial painter, making shop signs and painting houses.
New York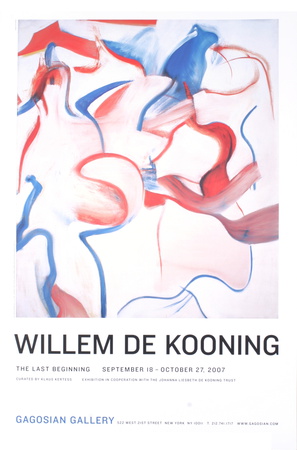 In 1929, he met Arshile Gorky and the two struck up a friendship and for a while shared a studio. De Kooning shared techniques from his training at the Academy with Gorky but, despite his own training and Gorky's lack of training, he felt Gorky was the better painter.
De Kooning and Gorky were among a group of painters that would be identified as the New York School, a group which helped to establish New York City's reputation as a center for artistic activity.
During the Depression of the 1930s, De Kooning obtained a place on the Federal Art Project which was set up to help artists and provide them with government-funded work. By the late 1930s, his reputation was growing and in 1937 he was commissioned to design a section for the Hall of Pharmacy at the New York World's Fair. During this time, he met his wife, Elaine who was also a painter and who became a great promoter of his work. They married in 1943 but separated in 1954 although Elaine was present and supportive of de Kooning in his later, declining years.
Abstraction and beyond
During the 1940s De Kooning continued to do commercial work and also embarked on a series of portraits. An exhibition at the Egan gallery in New York in 1948 featuring black and white abstractions was met with critical acclaim. In 1951, he painted Excavation which is generally considered to be one of the key works in the evolution of Abstract Expressionism. At this time, he also began to work on a series of paintings of women which represented a move away from Abstraction and which caused a sensation when exhibited in 1953 at the Sidney Janis Gallery in New York.
In 1963 De Kooning moved from Manhattan to Long Island, NY where he worked until his death in 1997. His later paintings are described by the Museum of Modern Art as 'variously spare, animated, and richly hued' Willem de Kooning is widely considered to be one of the greatest Abstract Expressionist painters of the post-World War II period.